Advent Calendar for dogs from Oven-Baked Tradition
Pets are part of their families, and pets are often part of their families' festivities!  It only made sense for us to conceive an advent calendar for dogs so that they can have their own countdown until Christmas.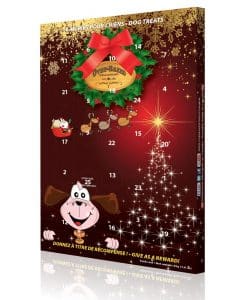 Of course, no chocolate for your pet friends! Our Advent Calendar hides 25 tasty bacon-flavored treats shaped in Christmas trees, ornaments and stockings. From December 1st to December 25, your dog will get to enjoy one treat per day…as long as he behaves ;)!
Our Advent Calendar is only $5,99 and can be purchased at any Oven-Baked Tradition's retailers. Use this tool to locate the retailers in your area: https://www.ovenbakedtradition.com/en/store-locator
Don't wait until November 30 to buy your pet's advent calendar! Our retailers have told us that they are flying off the shelves. We are thrilled that you are as excited as we are about our advent calendar idea! Some of you have even suggested that we should have an advent calendar for cats. Thank you so much for the suggestion, and we are looking into that possibility for the future. We also welcome opportunities to spoil your pet friend!
Happy Holidays Countdown!