New canned cat food from Oven-Baked Tradition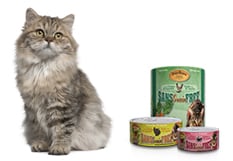 Your cat will get to choose among three tasty flavours: fresh salmon and vegetables, fresh turkey and vegetables, and fresh chicken and vegetables. All flavours are available in three can sizes:2,75 oz, 5,5 oz and 12,5 oz. Most of our retailers already have them all in stock for you!
You can treat your cat daily with our canned food, as it is well balanced and has everything that your cat needs and nothing that your cat does not. You can also give a can once in a while, whenever you want to treat your cat to a moist meal. If your cat does not drink enough during the day, canned food can be a great and tasty solution to increase your cat's daily water intake.
"Bon appétit" to your cats!
We hope you will try our new canned food products, and most importantly that your cat will love them! Should you have any question on our food, just ask away, we will be more than happy to answer any concerns you may have.
There is also a dog under your roof?
Great news: We also now have canned products for dogs: https://www.ovenbakedtradition.com/en/ovenbakedtradition/product/new-canned-dog-food-from-oven-baked-tradition Learn more on our website: https://www.ovenbakedtradition.com/en/our-products/grain-free-canned-food/grain-free-canned-food-cats
3 Juin 2014