Winter and spring hiking is a great way to enjoy the outdoors before the summer time. For dog owners, bringing Fido along is a no-brainer, as he or she can't probably thing of anything else more fun to do. Bringing Fido along is however not always easy in Quebec, as dogs are not allowed in most major parks. Hopefully, this list will help you find the best dog-friendly spots: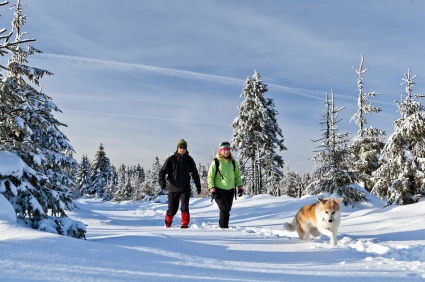 Montreal area
In Montreal, all large parks allow leashed-dogs. Mount Royal is one of the best destinations to enjoy a nice walk in the woods, as well as a beautiful scenery of the city from its belvedere. Olmstead is very busy on weekends, making it a fun and social walk for your dog. If you really want to get away from it all, just choose the narrower trails that criss-cross the mountain. Information: http://www.lemontroyal.qc.ca/en/learn-about-mount-royal/homepage.sn
L'Île-Bizard, an island northwest of Montreal, offers a network of 6.8 kilometer of trails that goes around a quiet forest. It is also possible to snowshoe in the park on an 11-kilometer trail.
The Laurentides and Lanaudiere region
In Le Gardeur, just 30 minutes from Montreal, "les sentiers de la Presqu'île" lets your pup roams leash-free in a network of 11 kilometers of trails for a small fee. Information: http://lessentiers.net/
Mont Ouareau near Saint-Donat is a nice hike up of 240 meters that rewards you and your pup with a wonderful view from its 685m summit of the Lanaudiere region. Information: www.matawinie.org
If you want a walk on large paths, you may want to go to Emilie's Cabins near Rawdon where you get to choose between 20 kilometers of trails of various difficulties and lengths. Information: http://www.chalets-emelie.com/en/home.html
Dufresne Regional Park is well known among dog owners who love the outdoors. In winter, close to 28 kilometers can be snowshowed along with Fido on quiet single-tracks trails. Information: http://www.parcregional.com/activites-et-sentiers/carte-des-sentiers/
For a small $5 fee, Montfortaine in Wentworth-North lets you walk on 21.2 kilometers of groomed trails. The selection of four trails between 2.4 km and 8.9 km makes it easy to plan the length of an outing. It is also possible to snowshoe off-trails in the sector. Information: 450 226-2428
In Montérégie
Hudson nature trails are groomed, perfect for a nice winter walk. Along the 11 kilometers of trails, there is an observation tower that offers a beautiful view of the Ottawa River and the lake of Deux-Montagnes. Access is completely free! Information: http://www.ville.hudson.qc.ca/
Saint-Timothee's Regional Park lets you walk between the Saint-Lawrence River and Saint-Charles River on 14 kilometers of easy trails. Acess is free during the winter. Information : http://www.bonjourquebec.com/qc-en/attractions-directory/municipal-and-regional-park-nature-interpretation-centre/saint-timothees-parc-regional-des-iles_5759344.html
In Eastern Townships
Diable vert is the place to go if you want to feel welcomed with your dog while enjoying the outdoors. Dogs can even go in the cabins…and are obviously, allowed outside, if you want to try winter camping. There are more than 15 kilometers of trails perfect for snowshoeing or "mud walking" (!): http://www.audiablevert.com/
Mont Bellevue in Sherbrooke is a well-known sector to enjoy the outdoors conveniently without spending too much time driving. The ski resort offers 7 kilometers of groomed trails for winter walks and 12 kilometers of snowshoeing trails. Information: http://www.ville.sherbrooke.qc.ca/sous-site/bases-de-plein-air-urbaines/parc-du-mont-bellevue/station-de-ski/
In Outaouais
While dogs are only allowed on the groomed walking trails during winter time in Gatineau Park, that restriction still lets room for a great outing in a beautiful scenery on the 11.5 kilometers of available trails. If you want a view of the whole Outaouais valley, make sure you pick Lauriault Trail.
If you want to go for a quiet walk in the woods, consider the Montagnes noires near Ripon in the Valleys of the Petite-Nation. There is over a dozen kilometers of trails of various difficulties. Go up the mountain if you want to enjoy beautiful sceneries of the Valley and the Laurentides. Information: http://ville.ripon.qc.ca/?page_id=128
Have a great hike! Do not hesitate to add your recommendations in the comments section.