Behaviours your dog should know before you have kids
A baby's arrival in a family is a big thing! Babies are needy, and they are needy 24/7.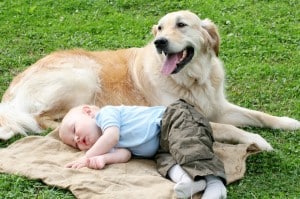 Unfortunately, what should be happy news for a family turn out to be sad news way too often for the canine member of that family. A lot of dogs are indeed abandoned after a baby's arrival, simply because they have not been educated properly. What was slightly annoying or just funny can become unbearable to sleep-deprived owners who then surrender their pet, not having the energy required to teach him a more appropriate behaviour.
But a baby does not happen overnight! It is more often than not planned, and even if it is surprise pregnancy, a family still have approximately nine months to figure out what to do! Preparing your dog to the baby's arrival should be on your family's to-do list. Here are behaviours that should be mastered by dogs before the arrival of a baby into a family:
1)   The Walk
Everybody has different criteria on how a dog should walk on a leash. Some people require their dogs to heel all the time, while others simply do not want to be pull and drag all over the place. Your dog's behaviour on leash should be so that it is not complicated or stressful to bring him along on a walk with the baby. Otherwise, your sleep-deprived self will choose the quickest and easiest way to go on walks with your baby, which is too leave your troublesome canine partner behind. Unfortunately, this way you are only creating another problem by turning your dog into a frustrated energy-bomb that will need to find his own way of burning his energy. Train your dog so that the walks are enjoyable to you, to your dog, and to your baby.
2)   Leave it and give it back
A dog that steals socks can be funny in his annoyance. A dog that steals the baby's toys, the messy diapers, etc. and do not give them back without creating a mess will rarely be perceived as very funny. It is important to teach your dog to "leave it" so that he does not take what he should not. Your dog should at least know to "give", if it happens that he has something forbidden in his mouth so that you are able to reclaim your things or your baby's things before they are destroyed.
3)   Calm interactions with his family
A dog that jumps on you or sprint at you to get your attention can be annoying. But that same dog becomes dangerous when a baby arrives in a family. It is therefore important that you teach now your dog calm ways to interact with you and have your attention. Simply ignore all bully-like interactions from your dog, and reinforce all his polite and calm interactions. He will get it quickly enough!
4)   No running or crazy behaviours in the house
A dog that runs around the house, jumps on the couch, etc. can cause an accident when there is a fragile baby in the house. Most importantly, your dog should get daily exercise before you expect him to be calm inside. Then, you can teach him to relax inside the house by reinforcing all calm behaviours. It should not feel like training to your dog: For example, you just toss him a treat when he is lying calmly by your side. He will eventually be more relaxed naturally inside the house.