Animal shelters and rescue groups are very, very busy during this time of the year. By adopting an animal from a shelter or rescue group after moving day in Quebec, you are not only adopting an animal, but also saving his life, or the life of the next animal that the rescue group would not have been able to accommodate if it were not of your generous adoption. Sad statistic: 80 % of pets surrendered around Moving Day in Quebec will be euthanatized.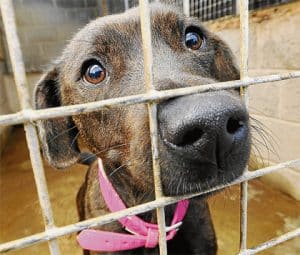 So where should you adopt your rescue?
Rescues can be adopted via a shelter, where the animals are kept in an installation with different cages and where volunteers make sure that all animals have whatever they need to be happy and healthy, or via a rescue group, where animals usually stay with a foster family, living a normal family life right until they are adopted by their forever family.
Adopting a rescue from a Rescue Group
There is one big advantage from adopting a dog or a cat from a rescue group that uses foster families: The animals are evaluated in a normal family setting, which makes the evaluation more complete (a lot of situations can arise, and the family is there to see how the cat or the dog deals with each of them) and more realistic (you have a better idea of what the animal would be like in your home). Would this dog damage your furniture and possession? Does this cat like living with kids and other pets? Would this dog like sharing his life with another doggy friend? Would this cat like to be handled, and how? In a shelter environment, answers to such questions are very hard to get and cannot be properly evaluated.
The downside of such rescue groups are insignificant: You do have to coordinate with the foster family's schedule to meet the animal, and you might have a longer drive to get there, but that is basically it! Because of the limited number of available foster families, these rescue groups however usually do not have a lot of candidates for you to choose from, so you might have to follow this group for a couple of months until they get a dog or a cat that matches what you are looking for.
And good rescue groups take "matching" seriously. After all, they want the best match between you and the animal, so that you both live together happily after for the next 5, 10 or 20 years! You should therefore expect to complete a form with a lot of personal questions so that they are able to assess the person that you are and the kind of dog or cat that would best match your needs and situation.
Here is a list of rescue groups that have a good reputation in Quebec:
Animatch : http://www.animatch.ca/
Sophie's Dog : http://www.sophiesdogadoption.com/
Gerdy's Rescue : http://www.gerdysrescue.org/
If you are looking for a particular breed, chances are it has its own rescue group or network! For instance, someone who is looking to adopt a boxer should contact Boxer Rescue Quebec and someone who is looking to adopt a Golden Retriever might find the perfect companion at Golden Rescue Quebec.
Adopting a rescue from an animal shelter
Most abandoned animals end up in animal shelters around the province. They are a lot of them, unfortunately, but that (fortunately) leaves you a lot of potential candidates to choose from when you are looking to adopt a rescue. Important downside: An animal shelter can be a stressful and unnatural environment, making the behaviour analysis important for a good match somewhat tricky. You have to step in and do your own assessment to find the right companion for you and your family!
First, be prepared, and know which criteria are important to you. Falling in love at first sight is usually not enough to ensure a harmonious relationship for the next five, ten or twenty years…! You will want to "fall in love" with your perfect match, and you have to know which dogs or cats would fit that description. Ask a friend or family member who knows a lot about dog or cat behaviour to help you assess the candidate's personality.
If you are interested in a specific animal, go close to his cage, and evaluate his reaction: Does he look scared, worried, and even defensive, or does he look happy, friendly or curious? That will tell you a lot about his temperament, his stress level and his past relationships with humans. Ask the volunteers if you can spend some solo time with the animal in a room or outside. When you are alone, does he want to interact with you or is he more curious about the environment? If you grab a toy, does he want to play with you? Be petted? Does he know some basic commands such as "sit" or "come"? Have the person who came with you enter the room suddenly, and evaluate the dog or the cat's response to the intruder. You will also want to ask a lot of questions to the volunteers to get the information from their own evaluation: Does he guard his toys and his food? Does he seem tense around other dogs or cats, or curious? Etc. You will also want to "test walk" the dog, to see how he walks on the leash. Pulling is not an issue and can be caused by excitement, lack of exercise or just lack or proper training. Instead, assess whether the dog looks excited or scared, and try to see how he reacts in certain situations like when you walk next to other people or other dogs.
Now that you know more about this dog or this cat, judge whether he is still a good match for you and your family. Adopting an animal with good intentions to "save him" is not enough, and a lot of families with good intention end up returning their pet once they find out that they do not have the time or commitment to work on some of their pet's important issues. ALL animals need to be saved, so it is totally fine to choose the adorable pit bull mix that is zen, happy and that loves kids for your family, instead of the scared Labrador with food guarding issues that seem to need a lot of help to become an adjusted and happy dog.
Here is a list of shelters in Quebec:
SPCA Montreal : http://www.spcamontreal.com
SPCA Laurentides : http://www.spcall.ca
SPCA Montérégie : http://www.spcamonteregie.com/
SPCA Mauricie : http://www.spamauricie.com/
SPA Quebec : http://www.spadequebec.ca/
SPCA Outaouais : http://www.spca-outaouais.org/
You think another refuge group or animal shelter should be included in this list? Please add it in the comments sections, and we will update our post with your contribution.
Also, if you are looking for a specific dog, you might want to check out www.petfinder.com, where most refuge groups and animal shelters list their available pets.
Good luck, and a big thank you from all the animals waiting for their forever families!